Gathering information from the past …….
Preserving it for the future
New Farm & Districts Historical Society is a community-based organisation whose members are passionate about ensuring the rich and vibrant history of New Farm and nearby suburbs is not forgotten.
The area was once a semi-rural retreat for a few well-heeled families on large well-chosen sites. Gradually the large estates gave way to gentleman's villas and worker's cottages and eventually much of the suburb became working class, industrial and shipping. Urban renewal brought many changes as the suburbs became gentrified once again making New Farm and the surrounding districts some of the most desired areas of Brisbane in which to live.
The society promotes an understanding of the history of the area and how it evolved from one of Brisbane's earliest settlements to the present.
Saturday 24 July 2021, 2.30pm — View Steve's talk here…  BRISBANE'S love affair with swimming from early colonial days to the present will be in focus at the July meeting of the New Farm and Districts Historical Society. The speaker is to be Steve Capelin, a writer who is a member of the West End Making
Read More »
Like to receive the monthly NFDHS newsletter with articles, upcoming events and latest news?
Just enter your email address below! (you can un-subscribe from the list at anytime..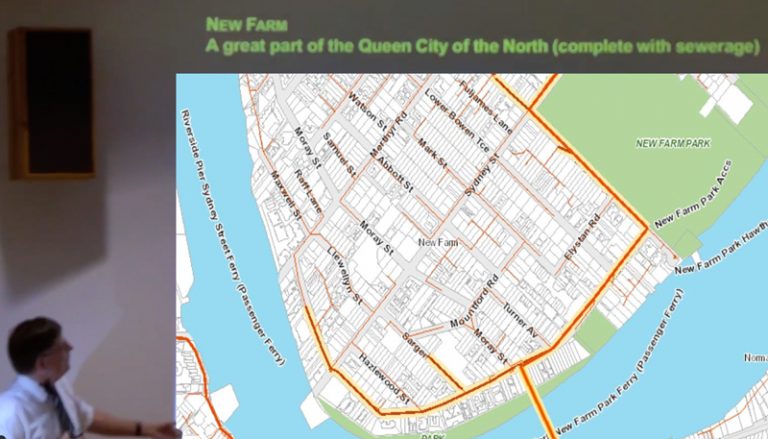 ACCORDING to speaker Col Hester from Urban Utilities on Sat 26 June 2021 at New Farm: "What allows you to have a nice quality of life and not drop dead before you are one (reference to the terrible child mortality rate in early Brisbane town), is the fact of all these red lines here (pointing
Read More »